Sunday Coupon Preview 3-29-20 (4 Inserts)
Sunday Coupon Insert Preview 3/29/20

The Sunday Coupon Preview 3-29-20 (also called a March 29, 2020 Sunday Coupon Insert Preview 3/29/20) is used to see which coupon inserts from SmartSource, RetailMeNot Everyday (formerly RedPlum) and/or P&G - Proctor & Gamble to expect in your 3/29 Sunday Paper Coupons. The number of Coupon Inserts in each Sunday Paper will vary by Region, and the number of coupons that are provided in each Coupon Insert may also vary by Region. This list is not an exact list of what you will receive, and is intended as a guide. We cannot make any guarantees as to which inserts or coupons will be in your particular 3/29 Sunday Paper. Thanks to grocery-coupons-guid.com for the previews!
See prior years/weeks of the Sunday Coupon Preview
2020  |  2019  |  2018  |  2017  |  2016  |  2015
SPOTLIGHT REWARDS & FREE COUPONS OFFER
Join P&G Good Everyday - It's Our Home
Get Free Coupons and Earn Rewards while P&G makes donations to charities that protect our planet! Collect and redeem points for Gift Cards and Sweepstakes entries! Every sign up helps to plant one tree!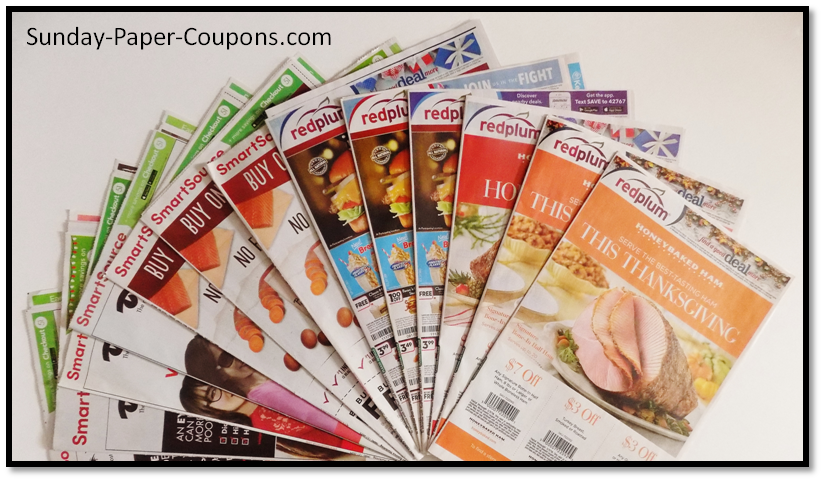 Get all of your

FREE COUPONS

 at Sunday Paper Coupons Everyday!


Expiration dates are shown at the end of listings in parenthesis ().
ETS  = Excludes Trial Size  |  DND = Do Not Double | Full List of Coupon Abbreviations

*  *  *  *  *
SMARTSOURCE
Sunday Coupon Preview 3-29-20
Sunday Coupon Insert Preview 3/29/20
SMARTSOURCE #1
ACT

 Dry Mouth Product (ETS)

$1/1

(4/12)

ACT

 Kids Product (ETS)

$1/1

(4/12)

ACT

 Product (ETS)

$1/1

(4/12)

Allegra Allergy

 24HR 24ct or larger, Allegra-D or Allegra Children's Allergy 8oz or 24ct

$5/1

(4/18)

Allegra Allergy

 24HR Gelcaps 60ct or Tablets 70ct

$10/1

(4/4)

Allegra Children's

 Allergy

$3/1

(4/18)

Allerlife

 20ct

$3/1

(4/18)

Allerlife

 60ct

$5/1

(4/18)

Beano

 Product 30ct or larger

$2/1

(5/9)

BLUE Bursts

 Cat Treats Bag

$1/1

(4/30)

Clear Eyes

 Product 0.5oz or larger

$1/1

(5/9)

Clorox

 Bleach Products 117oz or larger

$1/2

(5/16)

Debrox

 Earwax Removal Product

$2/1

(5/9)

Easy Off

 Product

.75/1

(6/14)

Finish

 Quantum Automatic Dishwasher Detergent

$2/1

(4/12)

Finish

 Max-in-1 or Finish Deep Clean Automatic Dishwasher Detergent

$1/1

(4/12)

Finish

 Machine Cleaner

$1/1

(4/12)

Finish

 Jet-Dry Rinse Aid

$1/1

(4/12)

Gold Bond

 Cream or Lotion 2.4oz to 5.1oz (exc. 1oz size and Men's Face Lotion)

$1/1

(4/11)

Gold Bond

 Lotion 13oz or larger

$1.50/1

(4/11)

Lime-A-Way

 Product

.75/1

(6/14)

Mop & Glo

 Product

.75/1

(6/14)

Nasacort

 Allergy 24HR 120 Sprays

$5/1

(4/18)

Nasacort

 Allergy 24HR 240 Sprays

$10/1

(4/4)

Old English

 Product

.75/1

(6/14)

Phazyme

 Anti-Gas Product

$2/1

(5/9)

Pine-Sol

 Multi-Purpose Cleaners 40oz or larger

$1/2

(5/16)

Rimmel

 Eye Product

$2/1

(5/31)

T

agamet

 Product 30ct or larger

$2/1

(5/9)

Xyzal

 Allergy 24HR 35ct or 55ct

$5/1

(4/18)

Xyzal

 Allergy 24HR 80ct

$10/1

(4/4)


SMARTSOURCE #2
Chobani

 Coffee Creamer 24oz

$1/1

(4/24)

Chobani

 Non-Dairy Single-Serve or Chobani Greek Yogurt Products FIVE

$1/5

(4/24)

Chobani

 Oat 52oz

$1/1

(4/24)

Claritin

 Non-Drowsy Chewables 24ct

$10/1

(4/5)

Claritin

 Non-Drowsy Chewables 24ct

$4/1

(4/26)

Claritin

 Non-Drowsy Chewables 8ct or larger

$6/1

(4/5)

Claritin

 Non-Drowsy Children's Chewables or RediTabs for Juniors 20ct or larger or Syrup 8oz (exc. Claritin-D)

$4/1

(4/26)

Claritin

 Non-Drowsy or Claritin Children's 30ct or larger (exc. Claritin-D)

$4/1

(4/26)

Claritin

 Non-Drowsy or Claritin Children's 60ct or larger (exc. Claritin-D)

$10/1

(4/5)

Claritin-D

 Non-Drowsy 15ct or larger

$4/1

(4/25

Claritin-D

 Non-Drowsy 15ct or larger

$8/1

(4/5)

Depend

 Fit Flex Product Package 8ct or larger (exc. other Depend Product)

$2/1

(4/4)

Depend

 Real Fit, Silhouette or Night Defense Product Package 8ct or larger (exc. other Depend Product)

$3/1

(4/4)

Domino

 Golden Sugar Product

.40/1

(5/21)

Glade

 Products (exc. Spray 8oz, Solids or PlugIns Scented Oil Warmer Only Packs)

$2/2

(5/9)

Nonni's

 Biscotti

$1/1

(5/29)

Nonni's

 ThinAddictives

$1/1

(5/29)

Poise

 Product Pads or Liners Package (exc. Liners 14ct to 26ct or Pads 10ct)

$3/1

(4/25)

Ricola

 Bags

$1/2

(4/25)

Sara

 Lee Sweet Goods Product (DND)

.55/1

(5/22)

Zest

 or Coast Bar Soap 6pk or larger

$2/1

(4/25)

Zim's

 Max Pain Relief Product

$2/1

(6/29)




Visit Sunday-Paper-Coupons.com weekly for the Sunday Coupon Preview
As stated above, the number of Coupon Inserts varies by Region
RETAILMENOT EVERYDAY


(formerly RedPlum)


Sunday Coupon Preview 3-29-20
Sunday Coupon Insert Preview 3/29/20

Biotene

 Product (ETS)

$2.50/1

(4/12)

Breyers

 Product 48oz

.50/1

(4/12)

Clear Care

 or Clear Care Plus Solution 12oz or larger

$3/1

(4/25)

Clear Care

 or Clear Care Plus Solution Twin Pack Only

$6/1

(4/25)

Community

 Coffee Bag, Canister or Single-Serve Box

$2/1

(5/10)

GenTeal Tears

 or Naphcon-A Eye Drops

$3/1

(4/25)

Golden

 or Silver Blossom Honey (DND)

$1/1

(12/31)

I Can't Believe It's Not Butter

 Product

.50/1

(4/12)

Kellogg's

 Rice Krispies and/or Cocoa Krispies Cereals 10.3oz or larger

$1/2

(5/10)

KFC

 Restaurant Coupons

Various

(6/29)

Mars

 Wrigley Chocolate Items 4.5oz to 46.2oz (DND)

$1/2

(4/12)

Opti-Free

 Puremoist, Replenish or Express Solution 10oz or larger

$3/1

(4/25)

Opti-Free

 Puremoist, Replenish or Express Solution Twin Pack Only

$6/1

(4/25)

Polident

 84ct or larger

$2/1

(4/28)

Polident

 120ct

$2.50/1

(4/12)

RoC

 Facial Moisturizer, Cream or Serum (exc. Daily Resurfacing Disks)

$2/1

(4/27)

RoC

 Retinol Correxion Deep Wrinkle Night Cream

$3/1

(4/27)

Suave

 Deodorant Products (exc. Twin Packs and 1.4oz)

$1/2

(4/12)

Suave

 Lotion Product (exc. 3oz)

$1/1

(4/12)

Suave Kids

 Hair Product (exc. Twin Packs and ETS)

$1.50/1

(4/12)

Suave Men

 Hair Care Product (ETS)

$1.50/1

(4/12)

Suave Professionals

 for Natural Hair Product – Buy One, Get One Free up to $5.99

B1G1

(4/12)

Suave Professionals

 Shampoo or Conditioner Product (exc. Twin Packs and ETS)

$1/1

(4/18)

Suave Professionals

 for Natural Hair Product (exc. Twin Packs)

$2/1

(4/12)

Suave Professionals

 Shampoo or Conditioner Products (exc. Twin Packs and ETS)

$3/2

(4/18)

Super Poligrip

 2oz or larger

$1.50/1

(4/28)

Super Poligrip

 Cushion & Comfort 2.2oz

$1.75/1

(4/28)

Systane

 Lubricant Eye Drops 10ml or larger or Pocket Pack 4ml

$3/1

(4/25)

Systane

 iCaps Eye Vitamins

$6/1

(4/25)

Systane

 Zaditor Eye Drops 5ml or larger

$3/1

(4/25)

Visit Sunday-Paper-Coupons.com weekly for the Sunday Coupon Preview
As stated above, the number of Coupon Inserts varies by Region

PROCTOR & GAMBLE
Sunday Coupon Preview 3-29-20
Sunday Coupon Insert Preview 3/29/20
Always

 Discreet Incontinence Product (exc. other Always Products and ETS)

$2/1

(4/25)

Always

 Radiant, Infinity, Pure, Pure Cotton, Maxi or Ultra Pads 10ct or larger (exc. Always Discreet)

$3/2

(4/25)

Bounty

 Napkins Product (ETS)

.50/1

(4/11)

Bounty

 Paper Towel Product 4ct or larger Including Double Plus Rolls (ETS)

$1/1

(4/11)

Cascade

 ActionPacs Dishwasher Detergent 30ct or larger (ETS)

$1/1

(4/11)

Cascade

 Dishwasher Detergent, Rinse Aid or Dishwasher Cleaner (ETS)

.50/1

(4/11)

Charmin

 Toilet Paper Mega Rolls Product 4ct or larger Including Mega Plus & Super Mega (exc. Single Rolls)

$1/1

(4/11)

Crest

 Mouthwash 473ml/16oz or larger (ETS)

$1/1

(4/11)

Crest

 Toothpaste or Liquid Gel 3oz or more (exc. 4.6oz Crest Cavity, Baking Soda, Tartar Control/Protection, Kids and ETS)

$1/1

(4/11)

Crest 3D

 White Whitestrips Kit (exc. Noticeably White, Classic White, Original Whitening Kit, Gentle Whitening Kit, Express Whitening Kit and ETS)

$5/1

(4/11)

Dawn

 Ultra Dishwashing Liquid, Platinum Foam or Powerwash Spray 10.1oz or larger (exc. Special Value, Simply Clean and ETS)

.50/1

(4/11)

Dawn

 Scrubbers, Sponges 3pk or larger, Brushes & Fillable Dishwands (exc. Gloves & Liquids)

.75/2

(4/25)

Fixodent

 Adhesive Twin or Triple Pack 1.4oz or larger (ETS)

$2.50/1

(4/11)

Gillette

 Disposable 2ct or larger (exc. Sensor 2ct and Venus Products) 

$3/1

(4/25)

Head & Shoulders

 Men's Styling Product   (ETS)

$2/1

(4/11)

Head & Shoulders

 Products (ETS)

$3/2

(4/11)

Herbal Essences

 bio: Renew Shampoo, Conditioner or Styling Products (exc. Masks, 100ml Shampoo and Conditioner, Color, Body Wash and ETS)

$3/2

(4/11)

Luvs

 Diapers (ETS)

$1.50/1

(4/11)

Metamucil

 Fiber Supplement Product (ETS)

$1/1

(4/11)

Mr. Clean

 "Clean Freak" Spray – Buy One, Get One up to $3.00 OFF (ETS)

$3/1

(4/11)

Mr. Clean

 Products (exc. Mr. Clean "Clean Freak" and ETS)

$1/2

(4/11)

Olay

 Whip or Retinol 24 Facial Moisturizer   (ETS)

$3/1

(4/25)

Olay

 Skin Care Product (ETS)

$1/1

(4/25)

Olay

 Serum, Mist or Mask (ETS)

$2/1

(4/25)

Olay

 Eyes or Facial Moisturizer (exc. Complete, Active Hydrating and ETS)

$2/1

(4/25)

Olay

 Bar Soap 4ct or larger, Body Wash, Hand & Body Lotion or Rinse Off Body Conditioner (exc. Bar 1ct and )

$1/1

(4/11)

Oral-B

 Adult Battery Toothbrush (ETS)

$2/1

(4/11)

Oral-B

 Adult Manual Toothbrush (exc. Kids, Healthy Clean, Cavity Defense and ETS)

$1/1

(4/11)

Oral-B

 Replacement Brush Heads 3ct or larger (ETS)

$3/1

(4/11)

Oral-B

 Special Care Oral Rinse 4.75ml or larger (ETS)

$2/1

(4/11)

Pampers

 Diapers or Easy Ups Training Underwear Bags or Box (ETS)

$3/2

(4/11)

Pampers

 Easy Ups Training Underwear or UnderJams Absorbent Night Wear Bags or Box (ETS)

$3/2

(4/11)

Pampers

 or Luvs Wipes 56ct or larger (ETS)

.50/2

(4/11)

Pantene

 Product Including Gold Series Collection (exc. Single Count Intense Rescue Shot, One Step Nourishing Mask and ETS)

$1/1

(4/11)

Pantene

 Products Including Gold Series Collection (exc. Single Count Intense Rescue Shot, One Step Nourishing Mask and ETS)

$3/3

(4/11)

Prilosec OTC

 Product

$1/1

(4/25)

Puffs

 Facial Tissues Boxes 3pk or larger (exc. Puffs To Go Singles and ETS)

.50/1

(4/11)

Secret

 Fresh, Outlast or Aluminum Free 2.4oz or larger

$1/2

(4/11)

Secret

 with Essential Oils or Clinical 1.6oz or larger

$2/1

(4/11)

Swiffer

 Product (exc. Heavy Duty Dusters 1ct and 2ct and ETS)

$1/1

(4/11)

Tampax

 Pearl, Radiant or Pure Tampons 14ct or larger 

$3/1

(4/25)

Venus

 or Daisy Disposable 2ct or larger or Pure Shave Care Product (exc. Daisy 2ct, Satin Care or other Venus Shave Preps) 

$3/1

(4/25)

Vicks

 Sinex Nasal Spray Product (ETS)

$2/1

(4/11)

V

icks

 VapoCool Drops (exc. VapoRub, ZzzQuil, Pure Zzzs and ETS)

.50/1

(4/11)

Vicks

 VapoRub, BabyRub, VapoInhaler, VapoPatch or VapoCream Product (exc. VapoCool Drops and ETS)

$1/1

(4/11)

Vicks

 ZzzQuil or Pure Zzzs Product (ETS)

.50/1

(4/11)

Waterless

 Product (ETS)

$3/1

(4/11)

Visit Sunday-Paper-Coupons.com weekly for the Sunday Coupon Preview
As stated above, the number of Coupon Inserts varies by Region

| | |
| --- | --- |
| You May Also Like... | You May Also Like... |
Spread the Savings! Share This Page

Get
Cashback

On Your Online Purchases!



You should already be using the Grocery Cashback Apps,
so now lets save a bundle shopping online with Cashback Sites like Rakuten (formerly Ebates), and save even more! 

Below are just some of the online Stores that you can earn on average @1-15% cashback, PLUS get a $10 Welcome Bonus just for signing up
if you spend $30 or more within 90 days!
See Cashback Percentage for any Store here: Rakuten
SEE CASHBACK % FOR ANY STORE Rakuten

Cashback percentages constantly change
Tags: coupon inserts, grocery coupons, insert schedule, sunday coupon insert schedule, sunday coupons preview, printable grocery coupons, sunday paper coupons, smartsource coupons, sunday coupon preview, sunday paper coupon preview, coupon insert preview, sunday coupon insert preview, coupon inserts preview, procter and gamble coupons, redplum coupons, p&g coupons, sunday paper coupons preview, sunday coupons, sunday paper coupon inserts, sunday coupon inserts, coupon insert schedule, manufacturers coupons, printable manufacturers coupons, 2017 coupon insert schedule, 2017 sunday coupon insert schedule, coupon preview, insert preview, 2018 sunday coupon insert schedule, 2019 sunday coupon insert schedule, 2020 sunday coupon insert schedule, 2021 sunday coupon insert schedule, 2022 sunday coupon insert schedule, SS, unilever, p&g, SAVE, 2023 sunday coupon insert schedule