What is Checkout 51?
How to use Checkout 51
to earn Cash Back for purchasing Groceries
What is Checkout 51 and how does it work? The Beginner's Guide to How to Use Checkout 51 below will help you to easily understand this free app, so that you too can start saving money with it.  Checkout 51 is a cash back grocery app that lets you earn cash back when grocery shopping.  And, unlike many of the other grocery apps, Checkout 51 works on your computer, cell or tablet. 
Like most other cash back apps, you can use Checkout 51 in addition to using paper manufacturer coupons, store coupons (paper or electronic), store offers (i.e., BOGO), store loyalty cards, and even other Cash Back Apps, like ibotta, SavingStar, or Snap by Groupon! It's yet another form of "stacking" and you can save big and even make money on some products by using multiple means of saving, such as these.
The cash back items/offers are not additional coupons that you have to take to the grocery store; so if you hate to clip coupons, you can still save by using the cash back apps!  But, you'll definitely save more money by combining (stacking) your savings by using the apps in addition to paper and other electronic coupons. One of the best parts about using many of the cash back grocery apps, is that they often offer cash back for items that you almost never get regular paper coupons for, such as: fruits, vegetables, and dairy (milk, eggs, cheese...)!  So dive in below and start saving!

How to use Checkout 51
to earn Cash Back for purchasing Groceries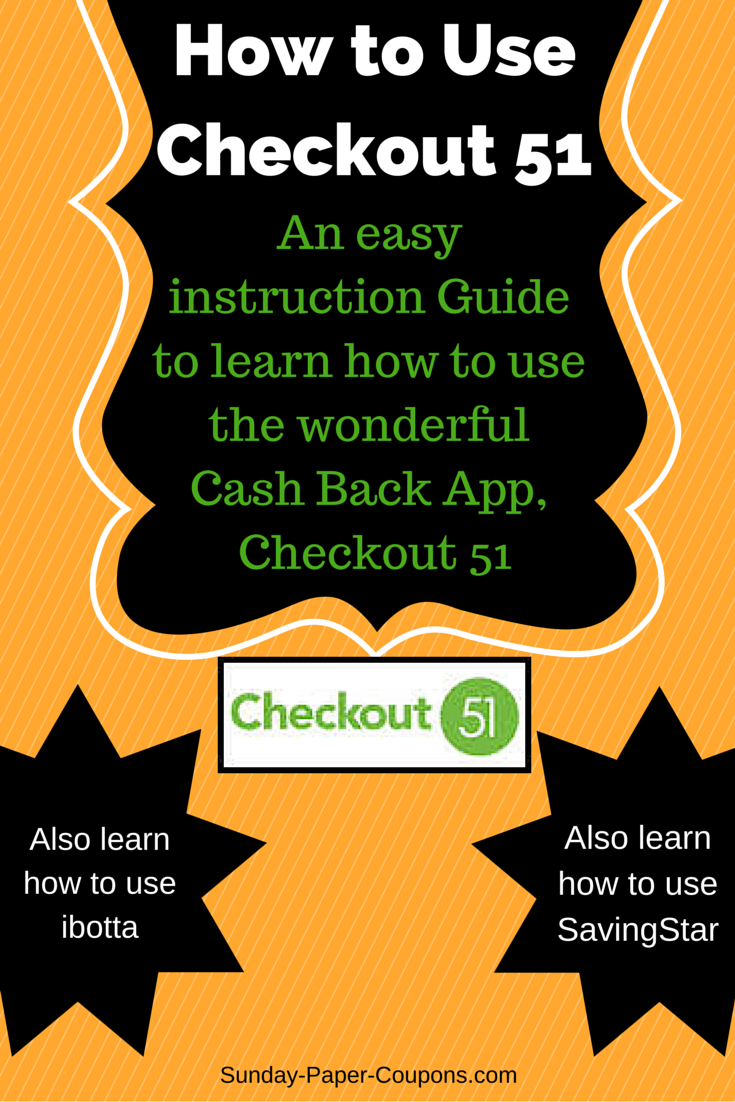 How to use Checkout 51:  
Every Thursday, Checkout 51 comes out with a list of Groceries, and they tell you how much Cash Back you will receive if you purchase that particular grocery item(s). You can purchase these items at ANY store and even online!  Best of all, you don't have to connect the coupons to any Loyalty Cards, you don't have to print coupons and take them to the store--it's sweet!  You might want to print the list of groceries and take it grocery shopping with you to remind you to purchase some items - that's what I do anyway.  You can use any form of payment to pay for your groceries (Cash, Debit Card, Credit Card, Check, Food Stamps or EBT Card, Coupons...).


Then, once you've purchased one or more of the items on their list, by Wednesday evening (their weekly deadline), you simply need to take a photo of, or scan a copy of the receipt(s) showing the items that you purchased on their list and upload it to them.  
They don't deduct any other coupon savings that you've already used toward the purchase from your cash back either.  So, if you used paper coupons at the store, and it made the item less or even free, you'll still receive your full cash back for the item - sweet! 
The Cash Back will then be credited to your account.  When your account reaches $20, they send you a check!  Money back for purchasing groceries that you were going to buy anyway - you can't beat that with a bat!
Still have questions?  Visit Checkout 51's FAQ page.

Get all of your

FREE COUPONS

 at Sunday Paper Coupons Everyday!


*  *  *  *  *
Spread the Savings! Share This Page

Get
Cashback

On Your Online Purchases!



You should already be using the Grocery Cashback Apps,
so now lets save a bundle shopping online with Cashback Sites like Rakuten (formerly Ebates), and save even more! 

Below are just some of the online Stores that you can earn on average @1-15% cashback, PLUS get a $10 Welcome Bonus just for signing up
if you spend $30 or more within 90 days!
See Cashback Percentage for any Store here: Rakuten
SEE CASHBACK % FOR ANY STORE Rakuten

Cashback percentages constantly change
checkout 51, checkout51, what is checkout 51, how to use checkout 51, check out 51, checkout 51 app, checkout 51 offers, is checkout 51 legit, checkout 51 review, grocery coupon app, couponing app, best grocery coupon app, free coupon apps, grocery shopping apps, grocery coupons app, cash back apps, coupon apps, grocery coupon apps, the coupon app, couponing apps, best coupon apps, grocery store app, coupons apps, best coupon app, top coupon apps, grocery store coupon app, grocery store coupons app, best grocery shopping app, coupon app, best couponing apps, coupons app, cash back sites, cashback websites