Sunday Coupon Preview 10-25-20
Sunday Coupon Insert Preview 10/25/20

The Sunday Coupon Preview 10-25-20 (also called the October 25, 2020 Sunday Coupon Insert Preview 10/25/20) is used to see which coupon inserts from SmartSource, RetailMeNot Everyday (formerly RedPlum) and/or P&G - Proctor & Gamble to expect in your 10/25 Sunday Paper Coupons. The number of Coupon Inserts in each Sunday Paper will vary by Region, and the number of coupons that are provided in each Coupon Insert may also vary by Region. This list is not an exact list of what you will receive, and is intended as a guide. We cannot make any guarantees as to which inserts or coupons will be in your particular 10/18 Sunday Paper. Thanks to grocerycouponsguid.com for the previews!
See prior years/weeks of the Sunday Coupon Preview
2020  |  2019  |  2018  |  2017  |  2016  |  2015
SPOTLIGHT REWARDS & FREE COUPONS OFFER
Join P&G Good Everyday - It's Our Home
Get Free Coupons and Earn Rewards while P&G makes donations to charities that protect our planet! Collect and redeem points for Gift Cards and Sweepstakes entries! Every sign up helps to plant one tree!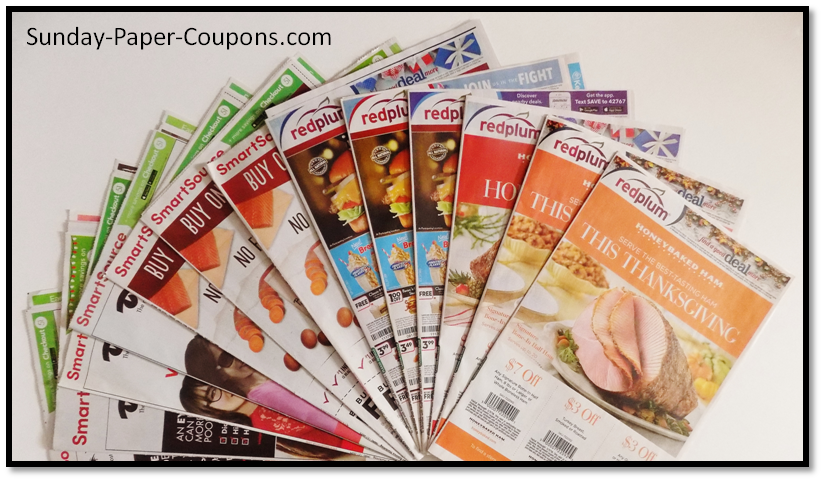 Get all of your

FREE COUPONS

 at Sunday Paper Coupons Everyday!


Expiration dates are shown at the end of listings in parenthesis ().
ETS  = Excludes Trial Size  |  DND = Do Not Double | Full List of Coupon Abbreviations

*  *  *  *  *
SMARTSOURCE
Sunday Coupon Preview 10-25-20
Sunday Coupon Insert Preview 10/25/20
Act

 Product

$2/2

(11/8)

Arm & Hammer

 Liquid Detergent

$1/1

(11/21)

Arm & Hammer

 Simply Saline

$1/1

(11/21)

Arm & Hammer

 Spinbrush

$1/1

(11/21)

Arm & Hammer

 Toothpaste

$1/1

(11/21)

Arm & Hammer

 UltraMax Antiperspirant Deodorant

.50/1

(11/21)

Beano

 Product

$2/1

(12/5)

Bertolli

 Olive Oil 1.5L, 2L or 3L (exc. organic)

$1.50/1

(12/31)

Bertolli

 Olive Oil 16.9, 25.5oz, 1.5L, 2L and 3L (exc. organic)

$1/1

(12/31)

Blink

 Contacts Lubricating Eye Drops OR Blink-N-Clean Lens Drops

$3/1

(11/30)

Blink

 Gel Tears Lubricating Eye Drops, Blink Geltears Lubricating Eye Drops Or Blink Tears Preservative Free Lubricating Eye Drops

$3/1

(11/30)

Chloraseptic

 Lozenges

$1.50/1

(12/5)

Chloraseptic

 Spray

$2/1

(12/5)

Clairol

 Nice 'n Easy, Root Touch-Up Permanent Creme, or Natural Instincts Hair Color (exc. Natural Instincts Crema Keratina Hair Color)

$5/2

(11/7)

Clairol

 Nice 'n Easy, Root Touch-Up Permanent Creme, or Natural Instincts Hair Color (exc. Natural Instincts Crema Keratina Hair Color)

$2/1

(11/7)

Clorox

 Bleach Products 77oz+

.50/1

(12/31)

Covergirl

 EYE Product (exc. accessories and ETS)

$3/1

(11/21)

Covergirl

 Face Product (exc. Cheekers, accessories and ETS)

$3/1

(11/21)

Covergirl

 Lip Product (exc. accessories and ETS)

$2/1

(11/21)

Gold Bond

 Ultimate Age Defense Product

$3.50/1

(11/22)

Gold Bond

 Ultimate Product

$1.50/1

(11/22)

Irish Spring

 Body Wash (exc. 2.5oz Body Wash)

.50/1

(11/8)

Johnson's

 Product

$1/1

(11/21)

Johnson's

 Product

$2/1

(11/7)

Luden's

 Product

.75/2

(12/5)

Phazyme

 Anti-Gas Softgels Product

$2/1

(12/5)

Pillsbury

 Refrigerated Baked Goods Products

$1/3

(12/19)

Sucrets

 Product

$1/1

(12/5)

Tagamet

 Product 30ct+

$2/1

(12/5)

Unisom

 product 24ct+

$2/1

(11/7)
Visit Sunday-Paper-Coupons.com weekly for the Sunday Coupon Preview
As stated above, the number of Coupon Inserts varies by Region
RETAILMENOT EVERYDAY


(formerly RedPlum)


Sunday Coupon Preview 10-25-20
Sunday Coupon Insert Preview 10/25/20

AXE

 Body Wash (exc. Twin Packs)

$3/2

(11/7)

AXE

 Deodorant

$1/1

(11/7)

Band-Aid

brand

 Adhesive Bandage or Neosporin

$1/1

(11/22)

Barilla

 Sauce Jar

$1/1

(12/20)

Benadryl

 Product

$1/1

(11/22)

Imodium

 product (exc. 6ct or Lactaid Dietary Supplement Product)

$1/1

(11/22)

Motrin

 Adult, Motrin PM or Bengay Product

$1/1

(11/22)

Nudges

 Dog Treats Trial Pack 2ct Nudges Jerky Chew OR any 10oz or larger Bag

$1.50/1

(12/31)

Preparation H

 Product (exc. Rapid Relief Cream 1oz and 0.75oz)

$1/1

(11/8)

Preparation H

 Rapid Relief Cream 1oz or 0.75oz Product

$4/1

(11/8)

Tylenol

 Children's or Infants Tylenol or Children's Motrin or Infants Motrin (exc. Children's Tylenol Cold & Flu)

$1.50/1

(11/22)

Visine

 Product

$1/1

(11/22)
Visit Sunday-Paper-Coupons.com weekly for the Sunday Coupon Preview
As stated above, the number of Coupon Inserts varies by Region

PROCTOR & GAMBLE
Sunday Coupon Preview 10-25-20
Sunday Coupon Insert Preview 10/25/20
Align

 Probiotic Supplement Product

$2/1

(11/7)

Always

 Discreet Incontinence Product (exc. all other Always Products and ETS)

$2/1

(11/14)

Always

 Radiant, Infinity, PURE, Pure Cotton, Ultra or Maxi Pads 10 ct+ (exc. Always Liners and Always Discreet)

$1/1

(11/21)

Bissell

 with Febreze Formula for your Carpet Cleaner or Crosswave Machine

$2/1

(1/31)

Bounty

 Napkins Product

.25/1

(11/7)

Bounty

 Paper Towel Product (exc. Napkins)

.25/1

(11/7)

Charmin

 Toilet Paper Product (exc. single rolls)

.25/1

(11/7)

Crest

 or OralB Mouthwash 473ml/16oz+

$1/1

(11/7)

Crest

 Toothpaste or Liquid Gel 3oz+ (exc. 4.4oz Crest Cavity, Baking Soda, Tartar Control, Protection, Kids and ETS)

$1/1

(11/7)

Downy

 Defy Damage Beads 22.9-24.4oz or In Wash Scent Boosters 20.5-26.5 oz (inc. Downy Unstopables, Fresh Protect, Odor Protect and Infusions) (exc. Downy Libre Enjuague and ETS)

$3/1

(11/21)

Downy

 Liquid Fabric Conditioner

$2/1

(11/21)

Downy

 Liquid Fabric Conditioner 60lD (inc. Downy Infusions Liquid Fabric Enhancer 48ld or Downy Odor Protect 32oz or Downy WrinkleGuard 25oz or Downy Nature Blends 44oz) or Bounce/Downy She 95-120 ct (inc. Bounce/Downy WrinkleGuard50-60ct, Bounce Pet Hair & Lint Guard50-60ct)

$1/1

(11/21)

Dreft

 Newborn Laundry Detergent 40oz or Dreft Active Baby Laundry Detergent 40oz or Dreft Pure Gentleness Laundry Detergent 40oz

$2/1

(11/21)

Dreft

 Newborn Laundry Detergent 50oz+ or Dreft Active Baby Laundry Detergent 50oz+ or Dreft Pure Gentleness Laundry Detergent 75oz

$3/1

(11/21)

Febreze

 or Febreze Light Product – Buy One, Get One FREE up to $3 (exc. Small Spaces Products and ETS)

B1G1

(11/21)

Fixodent

 Adhesive Twin or Triple Pack 1.4oz+

$2.50/1

(11/7)

Gillette

 Disposables 2ct+ (exc. Sensor 2ct, TREO Gillette Black and Venus Products)

$3/1

(11/21)

Gillette

 Razor (exc. Disposables, Venus Products and ETS)

$2/1

(11/21)

Head & Shoulders

 Mens Styling Products

$2/1

(11/7)

Head & Shoulders

 Products (exc. Mens Styling and ETS)

$3/2

(11/7)

Herbal Essences

 Bio:Renew Shampoo, Conditioner or Styling Products (exc. Masks, 100ml Shampoo and Conditioners, Color, Body Wash and ETS)

$3/2

(11/7)

Luvs

 Diapers

$1/1

(11/7)

Metamucil

 Fiber Supplement Product

$1/1

(11/7)

Olay

 Bar 4ct+, Body Wash, Rinse Off Body Conditioner or Hand and Body Lotion

$1/1

(11/14)

Olay

 Eyes or Serums

$3/1

(11/21)

Olay

 Regenerist Facial Moisturizer

$4/1

(11/21)

Olay

 Skin Care Product

$1/1

(11/21)

Olay

 Total Effects Facial Moisturizer

$2/1

(11/21)

Old Spice

 AntiPerspirant/Deodorant, Body Wash or Bar Soap (exc. High Endurance and ETS)

$1/2

(11/7)

Old Spice

 Dry Spray or Body Spray

$2/1

(11/7)

Oral-B

 Vitality or Pro Series 500+ Rechargeable Electric Toothbrush

$5/1

(11/7)

Oral-B

 Replacement Brush Heads 3ct+

$10/2

(11/7)

Oral-B

 Adult Battery Toothbrush

$2/1

(11/7)

Oral-B

 Adult Manual Toothbrush 1ct or Multipacks 2ct+ (exc. Healthy Clean, Cavity Defense, Indicator and ETS)

$1/1

(11/7)

Pampers

 Diapers or Easy Ups Training Underwear(inc. Mega, Jumbo, Super Giant and Enormous Packs)

$1.50/1

(11/7)

Pampers

 Wipes 56ct+

.50/2

(11/7)

Pantene

 Products Including Gold Series Collection (exc. Single Count Intense Rescue Shot, One Step Nourishing Mask and ETS)

$5/3

(11/7)

Pepto Bismol

 Product

.50/1

(11/7)

Prilosec OTC

 Product

$1/1

(11/7)

Puffs

 Facial Tissues Pack 3 boxes (exc. Puffs to Go singles and ETS)

.50/1

(11/7)

Safeguard

 Liquid Hand Soap 22oz+

$1/1

(11/21)

Secret

 Outlast, Secret Fresh, Secret Aluminum Free or Gillette Cear Gel 2.4oz+

$1/2

(11/7)

Sinex

 Product

$1/1

(11/21)

Stressballs

 Product

$2/1

(11/7)

Tampax

 Pearl, Pocket Pearl, Radiant, Pocket Radiant or Pure Tampons 14ct+

$1/1

(11/21)

Tide

 PODS Laundry Detergent 31ct or smaller (exc. Tide Liquid/Powder Laundry Detergent, Tide Pods 26ct, Tide Hygienic Clean Power Pods, Tide Simply, Tide Simply PODS, Tide Pods 9ct and below)

$2/1

(11/21)

Tide

 Pods Laundry Detergent 32ct+ (inc. Tide PODS 26ct) OR Tide Hygienic Clean Power Pods 21ct+ (exc. Tide Liquid/Powder Laundry Detergent, Tide Pods 35ct, Tide Simply, Tide SImple PODS and ETS)

$3/1

(11/21)

Tide

 Laundry Detergent 92oz+ or Tide Hygienic Clean Heavy Duty Laundry Detergent 69oz+ OR Studio By Tide Laundry Detergent 75oz+ or Tide PurClean Laundry Detergent 69oz+ (exc. Tide PODS, Tide Rescue, Tide Simply Laundry Detergent, Tide Simply PODS, Tide Detergent 10oz and ETS)

$3/1

(11/21)

Tide

 Laundry Detergent 75oz or smaller, or Studio By Tide Laundry Detergent 40oz or Tide PurClean Laundry Detergent 50oz or smaller, or Tide Antibacterial Spray (exc. Tide Pods, Tide Rescue, Tide Simply Laundry Detergent, Tide Simply PODS, Tide Detergent 10oz, Tide Hygienic Clean Heavy Duty Laundry Detergent 69oz and ETS)

$2/1

(11/21)

VapoRub

 or BabyRub or VapoCream or VapoInhaler Product (exc. VapoCOOL Drops and ETS)

$1/1

(11/7)

Venus

 or Daisy Disposable 2ct+ (exc. Daisy 2ct and Hybrids)

$3/1

(11/21)

Venus

 Razor (exc. Disposables)

$2/1

(11/21)

Vicks

 Immunity ZZZs Product

$1/1

(11/7)

Vicks

 VapoCOOL Drops, Spray or Lozenge Product

$1.50/1

(11/7)

Vicks

 Flu/Therapy Product

$2/1

(11/7)

Vicks

 VapoShower or VapoBath Product

$1/1

(11/7)

Vicks

 DayQuil, NyQuil or Formula 44 Product (exc. 8ct DayQuil & NyQuil, DayQuil & NyQuil Honey and ETS)

$3/2

(11/21)

Vicks

 Childrens Product

$2/1

(11/7)

Vicks

 DayQuil, NyQuil or Formula 44 Product (exc. 8ct DayQuil & NyQuil)

$1/1

(11/21)

Vicks

 Buy One Vicks DayQuil or NyQuil Honey Product – GET One VapoCOOL Honey Drops Free up to $3

B1G1

(11/21)

ZzzQuil

 or Pure Zzzs Product

$1.50/1

(11/7)
Visit Sunday-Paper-Coupons.com weekly for the Sunday Coupon Preview
As stated above, the number of Coupon Inserts varies by Region

| | |
| --- | --- |
| You May Also Like... | You May Also Like... |
Spread the Savings! Share This Page

Get
Cashback

On Your Online Purchases!



You should already be using the Grocery Cashback Apps,
so now lets save a bundle shopping online with Cashback Sites like Rakuten (formerly Ebates), and save even more! 

Below are just some of the online Stores that you can earn on average @1-15% cashback, PLUS get a $10 Welcome Bonus just for signing up
if you spend $30 or more within 90 days!
See Cashback Percentage for any Store here: Rakuten
SEE CASHBACK % FOR ANY STORE Rakuten

Cashback percentages constantly change
Tags: coupon inserts, grocery coupons, insert schedule, sunday coupon insert schedule, sunday coupons preview, printable grocery coupons, sunday paper coupons, smartsource coupons, sunday coupon preview, sunday paper coupon preview, coupon insert preview, sunday coupon insert preview, coupon inserts preview, procter and gamble coupons, redplum coupons, p&g coupons, sunday paper coupons preview, sunday coupons, sunday paper coupon inserts, sunday coupon inserts, coupon insert schedule, manufacturers coupons, printable manufacturers coupons, 2017 coupon insert schedule, 2017 sunday coupon insert schedule, coupon preview, insert preview, 2018 sunday coupon insert schedule, 2019 sunday coupon insert schedule, 2020 sunday coupon insert schedule, 2021 sunday coupon insert schedule, 2022 sunday coupon insert schedule, SS, unilever, p&g, SAVE, 2023 sunday coupon insert schedule