Sunday Coupon Preview 10-20-19
Sunday Coupon Insert Preview 10/20/19

The Sunday Coupon Preview 10-20-19 (also called a Sunday Coupon Insert Preview 10/20/19) is used to see which coupon inserts from SmartSource, RetailMeNot Everyday (formerly RedPlum) and/or P&G - Proctor & Gamble to expect in your 10/20 Sunday Paper Coupons. The number of Coupon Inserts in each Sunday Paper will vary by Region, and the number of coupons that are provided in each Coupon Insert may also vary by Region. This list is not an exact list of what you will receive, and is intended as a guide. We cannot make any guarantees as to which inserts or coupons will be in your particular 10/20 Sunday Paper. Thanks so much to Grocery Coupons Guide for the insert previews.
See prior years/weeks of the Sunday Coupon Preview
2019  |  2018  |  2017  |  2016  |  2015
SPOTLIGHT REWARDS & FREE COUPONS OFFER
Join P&G Good Everyday - It's Our Home
Get Free Coupons and Earn Rewards while P&G makes donations to charities that protect our planet! Collect and redeem points for Gift Cards and Sweepstakes entries! Every sign up helps to plant one tree!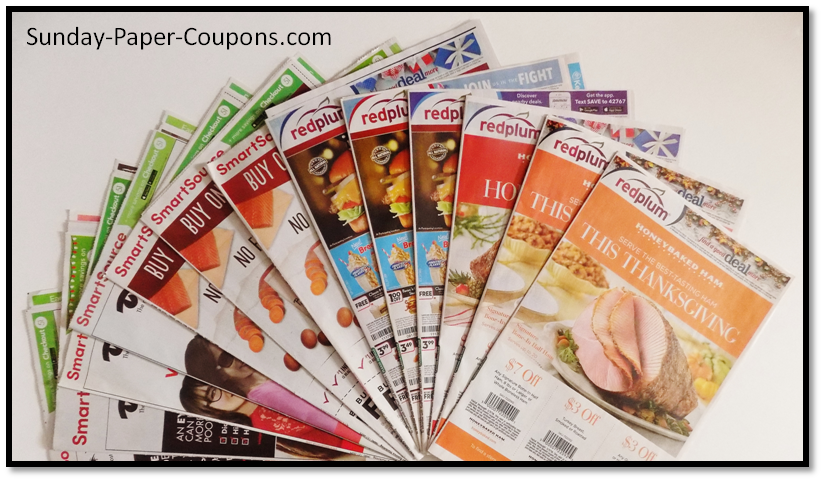 Get all of your

FREE COUPONS

 at Sunday Paper Coupons Everyday!


Expiration dates are shown at the end of listings in parenthesis ().
ETS  = Excludes Trial Size  |  DND = Do Not Double | Full List of Coupon Abbreviations

*  *  *  *  *
SMARTSOURCE
Sunday Coupon Preview 10-20-19
Sunday Coupon Insert Preview 10/20/19
Acuvue

 $3/1 revitalens 10oz multi-purpose disinfecting solution (11/25)

Acuvue

 $5/1 revitalens 20oz multi-purpose disinfecting solution (11/25)

Air Wick

 $3/1 essential mist starter kit (11/17)

Air Wick

 $1.50/1 essential mist refill (11/17)

Amberen

 $7/1 any product (11/18)

AmLactin

 $3/1 product exc. foot repair cream & ETS (11/3)

AmLactin

 $7/2 products exc. foot repair cream & ETS (10/27)

Bausch & Lomb

 $2/1 lumify 2.5ml product (12/14)

Bausch & Lomb

 $4/1 lumify 7.5ml product (12/14)

Bausch & Lomb

 $3/1 ocuvite product (12/19)

Blink

 $3/1 tears lubricating eye drops or geltears lubricating eye drops or tears preservative free lubricating eye drops (11/25)

Blink

 $3/1 contacts lubricating eye drops or blink-n-clean lens drops (11/25)

Colgate

 $0.50/1 Toothpaste 3.0oz + exc. 2.8oz, 2.8oz bonus and ETS (11/2)

Evolution

 $1/1 11oz or 15.2oz bottle of fresh juice (12/31)

Farm Rich

 $2/2 time outs snack (12/19)

Farm Rich

 $1/1 time outs snack (12/29)

Fisher

 $0.55/1 Recipe Nut Item of any variety 10oz+ (11/19)

Fisherman's Friend

 $1/1 38ct+ product (11/4)

Fisherman's Friend

 $1/2 all products (1/18)

Nonni's

 $1/2 biscotti (12/29)

Nonni's

 $1/2 thinaddictives (12/29)

Quaker

 $1/2 chewy (11/30)

Resolve

 $1/1 carpet cleaner exc. ultra (12/31)

Suave

 $2/2 professionals product exc. twin packs & ETS (11/17)

Suave

 $1/1 professionals product exc. twin packs & ETS (11/17)

Suave

 $2/1 professionals natural hair product exc. twin packs & ETS (11/17)

Suave

 $1/1 men hair product ETS (11/17)

Suave

 $1/1 kids product (11/3)

Suave

 $1/1 lotion product ETS (11/3)

Tresemme

 $1.50/1 pro collection shampoo or conditioner ETS (11/3)

Victoria

 $1/1 24oz victoria premium pasta sauce (2/29)

Welch's

 $1/2 fruit snacks 8oz+ bag or 8ct+ box (11/30)

Welch's

 $0.50/1 Fruit Rolls or Fruit n Yogurt Snacks 6ct+ Box (11/30)

Visit Sunday-Paper-Coupons.com weekly for the Sunday Coupon Preview
As stated above, the number of Coupon Inserts varies by Region
RETAILMENOT EVERYDAY
(formerly RedPlum)
Sunday Coupon Preview 10-20-19
Sunday Coupon Insert Preview 10/20/19

Burt's Bees

 $2/1 adult toothpaste ETS (11/2)

Burt's Bees

 $0.50/1 kids toothpaste ETS (11/2)

Cerave

 $3/1 product exc. cleanser bar, 0.35oz healing ointment and ETS (11/9)

Cerave

 $3/1 healing ointment product exc. 0.35oz size (11/9)

Cerave

 $4/1 baby product (11/9)

Crest

 $2/1 multi-pack toothpaste 3oz or more exc. cavity, regular, baking soda, tartar control/protection f & w pep gleem, kids and ETS (11/2)

Garnier

 $2/1 skinactive product exc. masks and ETS (11/2)

Garnier

 $2/1 nutrisse or express retouch haircolor product (11/16)

Garnier

 $3/2 fructis shampoo, conditioner, treatment or styling products exc. 2oz, 2.9oz, 3oz and ETS (11/2)

Gerber

 $5/1 infant formula 19.4oz + or supplements (12/15)

Gerber

 $2/6 cereals, meals or drinks (12/15)

Gerber

 $4/8 puree 2-pack tubs or pouches (12/15)

Gerber

 $2/3 snacks (12/15)

Gerber

 B5G1 Free Gerber Organic or Natural Glass Jars up to $1.49 (12/15)

Gillette

 $4/1 razor or blade refill 4ct+ exc. disposables, venus products and ETS (11/16)

Loreal

 $2/1 paris superior preference, exc. or feria haircolor product (11/16)

Loreal

 $3/2 paris elvive shampoo, conditioner or advanced hairstyle products (11/2)

Loreal

 $1/1 paris root precision or magic root cover up product (11/16)

Loreal

 $5/2 paris superior preference, exc. or feria haircolor products (11/16)

Loreal

 $1/1 paris eyeliner, eyeshadow or eyebrow product (11/16)

Loreal

 $2/1 lip product exc. infallible lip products (11/16)

Loreal

 $2/1 paris mascara (11/16)

Loreal

 $2/1 paris cosmetic face product ETS (11/16)

Loreal

 $2/1 infallible lip product (11/16)

Loreal

 $1.50/1 paris skincare product ETS (11/12)

Loreal

 $2/1 paris lash serum solution (11/16)

Maybelline

 $2/1 new york lip product exc. baby lips (11/16)

Maybelline

 $2/1 new york mascara product exc. mini and ETS (11/16)

Maybelline

 $1/1 new york eyeliner or shadow product (11/16)

Maybelline

 $2/1 new york face product (11/16)

Nestle

 $1.25/1 bag 22oz+ butterfinger, crunch, baby ruth, 100 grand, oh henry, sweetarts, laffy taffy, bottle caps, nerds, fun-dip, gobstoppers, spree or runts (11/1)

Nudges

 $1.50/1 7oz+ bag of dog treats (12/31)

Nutro

 $3/1 bag wholesome essentials dry dog or cat food any size (11/17)

Perdue

 $1/1 frozen, fully cooked chicken product inc. perdue, perdue chicken plus, or perdue simply smart organics brands (11/30)

Quilted Northern

 $0.50/1 Bath Tissue Double Roll or larger (11/20)


Visit Sunday-Paper-Coupons.com weekly for the Sunday Coupon Preview
As stated above, the number of Coupon Inserts varies by Region

PROCTOR & GAMBLE
Sunday Coupon Preview 10-20-19
Sunday Coupon Insert Preview 10/20/19
Visit Sunday-Paper-Coupons.com weekly for the Sunday Coupon Preview
As stated above, the number of Coupon Inserts varies by Region

| | |
| --- | --- |
| You May Also Like... | You May Also Like... |
Spread the Savings! Share This Page

Get
Cashback

On Your Online Purchases!



You should already be using the Grocery Cashback Apps,
so now lets save a bundle shopping online with Cashback Sites like Rakuten (formerly Ebates), and save even more! 

Below are just some of the online Stores that you can earn on average @1-15% cashback, PLUS get a $10 Welcome Bonus just for signing up
if you spend $30 or more within 90 days!
See Cashback Percentage for any Store here: Rakuten
SEE CASHBACK % FOR ANY STORE Rakuten

Cashback percentages constantly change
Tags: coupon inserts, grocery coupons, insert schedule, sunday coupon insert schedule, sunday coupons preview, printable grocery coupons, sunday paper coupons, smartsource coupons, sunday coupon preview, sunday paper coupon preview, coupon insert preview, sunday coupon insert preview, coupon inserts preview, procter and gamble coupons, redplum coupons, p&g coupons, sunday paper coupons preview, sunday coupons, sunday paper coupon inserts, sunday coupon inserts, coupon insert schedule, manufacturers coupons, printable manufacturers coupons, 2017 coupon insert schedule, 2017 sunday coupon insert schedule, coupon preview, insert preview, 2018 sunday coupon insert schedule, 2019 sunday coupon insert schedule, 2020 sunday coupon insert schedule, 2021 sunday coupon insert schedule, 2022 sunday coupon insert schedule, SS, unilever, p&g, SAVE, 2023 sunday coupon insert schedule